Market highlights
The first month of the new year saw markets testing new all-time highs, but by month-end the Dow Jones Industrial Average slipped about -2% from New Year's Eve with factors like Gamestop speculation and disappointing news about Johnson & Johnson's vaccine trial contributing to the decrease.
Also affecting investors was the political tumult with the double Democratic Senate win in Georgia, terrorist activity at the nation's capital, the inauguration of Joe Biden and the second impeachment of Donald Trump. The continuing struggles with Covid, an uncertain but slowly improving economy, over 10 million unemployed Americans, and data from the Center on Budget and Policy Priorities revealing that 21% of all renters are behind in their rent and 15% of families with children are suffering from food shortages raised sobering questions about the extent of the damage that must be repaired.

U.S. Markets
The Dow Jones Industrial Average lost -624 points, declining from 30,606 at the end of December to 29,982 by January 31, ending the month with a -2% YTD. The S&P 500 was also diminished by month-end, losing -42 points and closing at 3,714, down -1.1% YTD. Still showing everyone how it's done, the NASDAQ increased +182 points to finish at 13,070 with a positive YTD of +1.4%. Starring lately in the role of the Little Engine That Could, the Russell 2000 also moved ahead by adding +99 points to 2,073 and a YTD of +4.8%. 10-year Treasuries were up +17 basis points as an ounce of gold lost -$38, crude oil increased over +4 dollars, and a retail gallon of gasoline rose over +26 cents.
International Markets
European markets showed declines in their national indexes while the opposite was true for their Asian counterparts. The British FTSE lost -53 points and closed at 6,407, about -1% YTD, as the German DAX declined -286 points to 13,432 for a -2% YTD; the French CAC closed at 5,399, down -152 points for a YTD of -2.8%. On the eastern side of Eurasia the Shanghai Stock Exchange was up +10 points during January to 3,483, an increase of about +0.3% while the Hang Seng of Hong Kong jumped +1,052 for a month-end of 28,283 and a YTD of nearly +4%. Japan's national index ended the month at 27,663 which was up +95 points giving the Nikkei a YTD of +0.4%.
International News
Brexit: The biggest news in Europe was the official separation of Great Britain from the European Union, which occurred on January 1. According to the New York Times, "Britain broke from the European Union's regulatory orbit on Jan. 1, casting off nearly half a century inside the bloc. While it formally left in January 2020, for 11 months Britain was in a transition period, operating under E.U. rules as negotiators settled on terms of the two sides' future commercial relations. The split, known as Brexit, has now been finalized, setting in motion what analysts say will be the biggest overnight change in modern commercial relations. A trade agreement between the two sides, far from closing the book on Britain's tumultuous relationship with the rest of Europe, opened a new chapter, starting with an avalanche of trading obstacles on January 1."
China: As the Chinese Year of the Ox approaches, the People's Republic of China sent fighters and bombers into Taiwan's airspace with a warning that "independence means war". This incident occurred at the same time that a U.S. Navy carrier battle group entered the South China Sea to promote "freedom of the seas".
Economically, Bloomberg reported "China's economy roared back to pre-pandemic growth rates in the fourth quarter as its industrial engines fired-up to meet surging demand for exports, pushing the full-year expansion beyond estimates and propelling its global advance. Gross domestic product climbed 6.5% in the final quarter from a year earlier, pushing growth to 2.3% for the full year. That leaves the world's second-largest economy driving global growth and potentially passing U.S. GDP sooner than previously expected."

Fixed Income
The Federal Open Market Committee (FOMC) met on January 26 - 27 and made the following statements according to CNBC, "Consistent with market expectations, the policymaking Federal Open Market Committee said it was keeping its benchmark short-term borrowing rate anchored near zero and maintaining an asset purchasing program that is seeing the Fed buy at least $120 billion a month. "The economy is a long way from our monetary policy and inflation goals, and it's likely to take some time for substantial further progress to be achieved," Fed Chairman Jerome Powell said at his post-meeting news conference. Policy will remain "highly accommodative as the recovery progresses," he added. "The path of the economy will depend significantly on the course of the virus, including progress on vaccinations," the statement said. The decision means that the fed funds rate, which serves as a benchmark for a variety of consumer debt instruments, will remain anchored in a range between 0% and 0.25% and most recently was trading at 0.08%." The next meeting of the Committee is March 16 – 17.

10-Year Treasuries ended January with a yield of 1.11, up +17 basis points, slowly increasing after the damage sustained since March 2020.

Commodities
Comex gold fell -$38 to $1,854 per ounce from its December close of $1,892, an adjustment and YTD of about -2%. West Texas Intermediate Crude oil jumped into the $50 - $60 trading range with a January 31 close of $52.72, an increase of $4.20 over January's open and a +8% YTD. The national average for a retail gallon of regular gasoline was $2.419 by the end of business on January 31, an increase of +26 cents since the end of December and a YTD of almost +11%.

U.S. Economy
GDP: The Bureau of Economic Analysis announced on January 28 that real Gross Domestic Product (GDP), as reported in the advanced estimate, increased at an annual rate of +4.0% in the fourth quarter of 2020. The second estimate will be available on February 25, which will further refine the initial estimate as more data comes in.
The statement continued with a comment on the effect of COVID-19: "The increase in fourth quarter GDP reflected both the continued economic recovery from the sharp declines earlier in the year and the ongoing impact of the COVID-19 pandemic, including new restrictions and closures that took effect in some areas of the United States. The full economic effects of the COVID-19 pandemic cannot be quantified in the GDP estimate for the fourth quarter of 2020 because the impacts are generally embedded in source data and cannot be separately identified."

Job Growth: The Bureau of Labor Statistics released their Employment Situation Summary on January 8, with the following highlights for December 2020: "Total nonfarm payroll employment declined by 140,000 in December, and the unemployment rate was unchanged at 6.7 percent, the U.S. Bureau of Labor Statistics reported today. The decline in payroll employment reflects the recent increase in coronavirus (COVID-19) cases. In December, job losses in leisure and hospitality and in private education were partially offset by gains in professional and business services, retail trade, and construction. Both the unemployment rate, at 6.7 percent, and the number of unemployed persons, at 10.7 million, were unchanged. 23.7 percent of employed persons teleworked because of the coronavirus pandemic, up from 21.8 percent in November. 15.8 million persons reported they had been unable to work because their employer closed or lost business due to the pandemic. This measure is 1.0 million higher than in November."

Housing Sales: As reported by Zillow, an American online real estate marketplace company, "...the strength of the residential construction industry (has had a) positive impact on the economy through most of 2020. Residential investment – including single- and multi-family home construction, home improvement, brokers' commissions and other factors — increased at an annualized rate of 33.5% in Q4 from Q3 and by 5.9% overall in 2020 from 2019. That's the strongest annual appreciation since 2016 and a sharp improvement from the past two years, when residential investment fell 1.7% and 0.6% from the preceding years, respectively. The encouraging trend in residential construction has been reflected, and expected, in new home sales figures over the past several months. Despite missing expectations somewhat – posting a solid number, but off slightly from highs hit earlier in the year — December's new home sales figures put the cap on the best year for new home sales since 2006. The estimated 811,000 new homes sold in 2020 was an 18.8% increase from 2019 and should serve as proof that new home demand can and will continue well into 2021. Robust new home sales figures are also an important indicator of broader housing market activity to come. The supply of new homes for sale has been picking up lately but remains low compared to historic norms — which is likely to incentivize builders to increase their activity, particularly when demand for housing remains solid. Expect the future permit and starts pipeline to be quite full this year. With a banner year in the books, December's new home sales report set the stage for a solid start to 2021."

Manufacturing: December data on manufacturing from the Federal Reserve indicated some signs of recovery as "Industrial production advanced 1.6 percent in December, with gains of 0.9 percent for manufacturing, 1.6 percent for mining, and 6.2 percent for utilities. The increase for utilities resulted from a rebound in demand for heating after unseasonably warm weather in November. For the fourth quarter as a whole, total industrial production rose at an annual rate of 8.4 percent. At 105.7 percent of its 2012 average, total industrial production in December was 3.6 percent lower than it was a year earlier and 3.3 percent below its pre-pandemic February reading. Capacity utilization for the industrial sector rose 1.1 percentage points in December to 74.5 percent, a rate that is 5.3 percentage points below its long-run (1972–2019) average."

Exports and Imports: Issued on January 7, the latest data for exports and imports reflect activity in November 2020. The following information is from the Bureau of Economic Analysis (BEA):

Exports:
Exports of goods increased $1.3 billion to $127.7 billion in November.
Industrial supplies and materials increased $0.8 billion.
Natural gas increased $0.5 billion.
Foods, feeds, and beverages increased $0.5 billion.
Net balance of payments adjustments increased less than $0.1 billion.
Exports of services increased $0.9 billion to $56.4 billion in November.
Travel increased $0.5 billion.
Transport increased $0.3 billion.

Imports:
Imports of goods increased $6.3 billion to $214.1 billion in November.
Consumer goods increased $4.0 billion.
Cell phones and other household goods increased $2.8 billion.
Industrial supplies and materials increased $1.5 billion.
Capital goods increased $1.2 billion.
Automotive vehicles, parts, and engines decreased $1.0 billion.
Passenger cars decreased $1.1 billion.
Net balance of payments adjustments decreased $0.1 billion.
Imports of services increased $0.9 billion to $38.2 billion in November.
Transport increased $0.4 billion.
Travel increased $0.4 billion.
Surpluses and Deficits:
The report also detailed the surpluses and deficits the United States has with other countries: "The November figures show surpluses, in billions of dollars, with South and Central America ($3.0), Hong Kong ($1.8), OPEC ($1.2), Brazil ($1.2), United Kingdom ($1.1), Saudi Arabia ($0.2), and Singapore ($0.2). Deficits were recorded, in billions of dollars, with China ($30.0), European Union ($16.7), Mexico ($11.3), Japan ($6.6), Germany ($4.9), Italy ($3.5), Taiwan ($3.0), South Korea ($2.9), India ($2.4), Canada ($1.7), and France ($1.7).
The deficit with China increased $3.5 billion to $30.0 billion in November. Exports decreased $0.5 billion to $12.6 billion and imports increased $3.0 billion to $42.6 billion.
The deficit with the European Union increased $1.0 billion to $16.7 billion in November. Exports increased $0.9 billion to $20.4 billion and imports increased $2.0 billion to $37.1 billion.
The surplus with South and Central America increased $0.8 billion to $3.0 billion in November. Exports increased $0.2 billion to $11.0 billion and imports decreased $0.6 billion to $8.0 billion."
Retail Sales: CNBC reported news from the Commerce Department on January 15 that "U.S. retail sales declined further in December as renewed measures to slow the spread of Covid-19 undercut spending at restaurants and reduced traffic to shopping malls as retail sales dropped 0.7% last month. Data for November was revised down to show sales declining 1.4% instead of 1.1% as previously reported. The report followed in the wake of news last week that the economy shed jobs in December for the first time in eight months. Further job losses are likely in January as new applications for unemployment benefits surged in the first week of the month. The data are in line with economists' expectations for a sharp slowdown in economic growth in the fourth quarter. Rampant coronavirus infections and delays by the government to approve more money to help businesses and the unemployed are behind the loss of economic momentum. The government provided nearly $900 billion in additional pandemic relief at the end of December."
Producer Price Index (PPI): The PPI is a leading economic indicator measuring the prices paid by producers of consumer goods and services. As published on January 15 by the Bureau of Labor Statistics, "The Producer Price Index increased 0.3 percent in December, as prices for goods advanced 1.1 percent, and the index for services edged down 0.1 percent. The index rose 0.8 percent in 2020."
Consumer Price Index (CPI): The CPI is also a leading economic indicator that helps economists measure inflation through the rise or fall of prices paid by consumers. Released on January 13, the Bureau of Labor Statistics noted "In December, the Consumer Price Index for All Urban Consumers rose 0.4 percent on a seasonally adjusted basis; rising 1.4 percent over the last 12 months, not seasonally adjusted. The index for all items less food and energy rose 0.1 percent in December; up 1.6 percent over the year."
Consumer Sentiment: In their monthly report on January 26, the Consumer Confidence Conference Board stated: "The Consumer Confidence Index® improved moderately in January, after decreasing in December. The Index now stands at 89.3 (1985=100), up from 87.1 in December. However, the Present Situation Index – based on consumers' assessment of current business and labor market conditions – decreased from 87.2 to 84.4. The Expectations Index – based on consumers' short-term outlook for income, business, and labor market conditions – increased from 87.0 in December to 92.5 this month. "Consumers' appraisal of present-day conditions weakened further in January, with COVID-19 still the major suppressor," said Lynn Franco, Senior Director of Economic Indicators at The Conference Board. "Consumers' expectations for the economy and jobs, however, advanced further, suggesting that consumers foresee conditions improving in the not-too-distant future. In addition, the percent of consumers who said they intend to purchase a home in the next six months improved, suggesting that the pace of home sales should remain robust in early 2021." Consumers' appraisal of current conditions weakened further in January. The percentage of consumers claiming business conditions are "good" increased from 15.4 percent to 15.8 percent, but those claiming business conditions are "bad" also increased, from 39.7 percent to 42.8 percent. Consumers' assessment of the labor market was also less favorable. The percentage of consumers saying jobs are "plentiful" declined from 21.0 percent to 20.6 percent, while those claiming jobs are "hard to get" rose from 22.9 percent to 23.8 percent. Consumers, however, have continued to grow more optimistic about the short-term outlook. The percentage of consumers expecting business conditions will improve over the next six months increased from 29.5 percent to 33.7 percent, while those expecting business conditions will worsen decreased from 22.0 percent to 18.1 percent. Consumers' outlook regarding the job market also improved. The proportion expecting more jobs in the months ahead increased from 28.0 percent to 31.3 percent, while those anticipating fewer jobs decreased from 22.2 percent to 21.4 percent. Regarding their short-term income prospects, the percentage of consumers expecting an increase declined from 15.7 percent to 14.4 percent, however the proportion expecting a decrease also declined from 14.6 percent to 14.2 percent."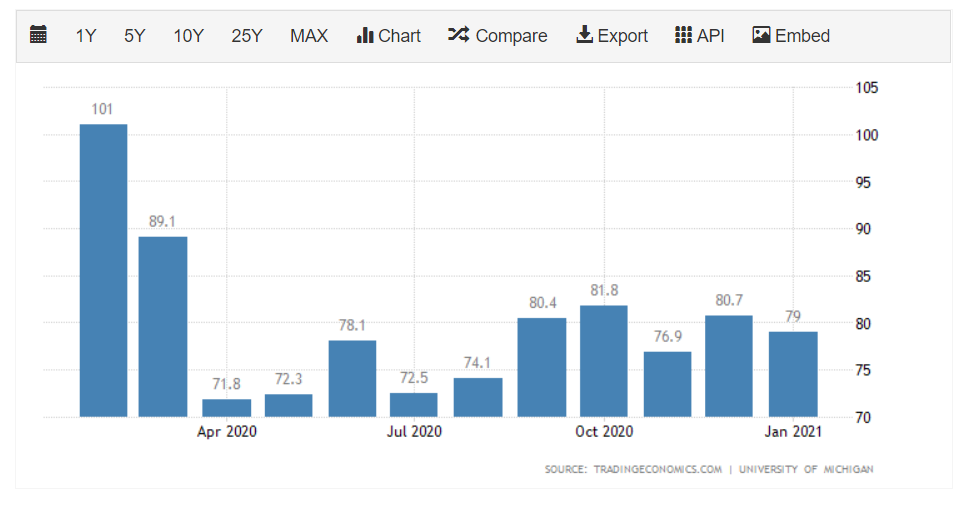 Interesting News
Interesting News: Energy companies are actively taking steps toward using giant battery facilities to store solar and wind energy that may make fossil fuels obsolete. As reported by the BBC in December 2020, "When the gigantic Moss Landing project becomes fully operational in mid-2021, it will more than double the amount of energy storage in California. Several other states are also now embarking on major energy storage projects. Among them: New York's 316-megawatt Ravenswood project will be able to power more than 250,000 homes for up to eight hours, replacing two natural gas peaker plants in the New York City borough of Queens. And the 409-megawatt Manatee system planned for South Florida will be charged by an adjacent solar plant. The facility, which utility Florida Power and Light says will be the world's largest solar-powered battery system, replaces two aging natural-gas-fired units. As a whole, the US's utility-scale battery power is set to grow from 1.2 gigawatts in 2020 to nearly 7.5 gigawatts in 2025, according to Wood MacKenzie, a natural resources research and consulting firm. Kelly Speakes-Backman, chief executive of the US Energy Storage Association, says that battery storage additions doubled in 2020, and would likely have tripled had it not been for construction slowdowns caused by the Covid-19 pandemic.
Europe has been slower to get on board with storage. "In general, Europe is a bit more conservative" when it comes to such developments, says Daniele Gatti, analyst for IDTechEx, a UK-based market research firm specializing in emerging technology. Energy storage development in Europe has been hindered by a restrictive electricity market dominated by government auctions that tend to undervalue storage, she says. Still, some big-battery projects are now taking shape, including the 320-megawatt Gateway system to be built at a new port facility near London."
Final Reflections
It is now almost a year since COVID-19 caused our nation and planet to enter near lockdown, resulting in over 2 million deaths worldwide and turning national economies into shambles. The United States economy and political system is under duress and it may take another year before we've made progress with restoring higher levels of employment and improved financial security for the millions of Americans living on the economic edge. "This, too, shall pass" are words of comfort we can tell ourselves and our families, and perhaps reflect that soon after the Spanish flu of 1918 came the Roaring 20s, suggesting, at least in this instance, it may be well that history repeats itself.
Information contained herein is based on data obtained from sources believed to be reliable, however, such information has not been verified by Carlton Financial Group, LLC d/b/a Carlton Wealth or Synergy Financial Management, LLC. The information provided has been prepared and distributed solely for information purposes and is not a solicitation or an offer to buy any security or instrument or to participate in any trading strategy or an offer of advisory services.