Market highlights
Domestic markets jumped skyward at the end of November, a rare feature for this time of year. Speaking about the S&P 500, "If it's up more than 10%, it will only be the third time since World War II that November has been up that much," said Sam Stovall, chief investment strategist at CFRA, the Center for Financial Research and Analysis, one of the world's largest independent investment research firms. "Such a strong November has a tendency to steal from Santa."
There are a number of factors that may be contributing to the markets' advance, including the voters' decision to replace President Trump with President-elect Joseph Biden, the possibility of three effective vaccines to combat COVID-19 with the implication there may be a return to some degree of normalcy by the end of Q1 2021, the increasing likelihood of an economic stimulus bill in January to help the economy recover from the pandemic's interference, and the potential for a democratic U.S. senate after the run-off election in Georgia on January 5. The
Dow Jones Industrial Average
cleared 30,000 points, an historic high, by closing at 30,046.24 on November 24 before falling back during Thanksgiving week. The other domestic indices performed well, along with major international markets in Europe and Asia which also had significant monthly increases.
Gold
was down -$80 per ounce while
crude oil
increased about +$8 though still surfed in the $40 – $50 per barrel range, and the price of a gallon of
gasoline
was essentially unchanged.
10-year Treasuries
continued their somnambulistic state with the loss of -4 basis points.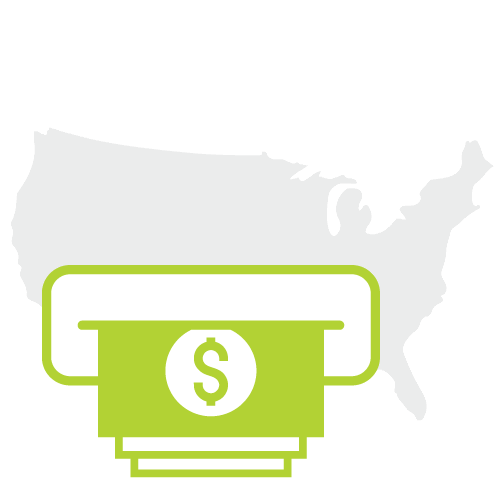 U.S. Markets
The Dow Jones Industrial Average
ended November at 29,823, an increase of +3,322 points over October's close and a YTD of +4.1%. Also showing positive gains, the
S&P 500
added +393 points during November, closing at 3,662 with a YTD of +12%. Still the giant, the
NASDAQ
greeted December at 12,355 with an increase of +1,4 44 points and a stunning YTD of +26.5%. Also deserving the limelight, the
Russell 2000
gained +298 points to finish November at 1,836 and a YTD of +9.3%.
International Economic News: Asia and Europe
As stated in the Federal Open Market Committee's November 5 minutes: "Economic activity abroad rebounded sharply in the third quarter following a rollback of pandemic-related restrictions. GDP levels, however, generally remained well below their pre-pandemic peaks, with China being a notable exception. Domestic demand supported the recovery, and in Asia there was also a strong rebound of exports, especially of electronics and, more recently, autos. Third-quarter growth was particularly rapid in those economies that experienced some of the deepest contractions in the second quarter, including France, Italy, and Spain among the advanced foreign economies (AFEs) and Mexico among the emerging market economies."

International Markets
International markets also expressed relief as London's FTSE made positive gains during November by adding +807 points to close at 6,384 ... though still underwater with a YTD of -16%. Germany's DAX gained +1,826 points and saw the end of November at 13,382, just barely over the YTD water level by +1%. November's CAC performance made Parisians happy as the index rose +987 points and closed at 5,581 though with a disappointing YTD of -6.8%. Asian markets were also pleased with their November gains. The Shanghai Composite Index rolled up +227 points for a monthly total of 3,451 points and a nice +10.7% YTD. Hong Kong told a different story because even though the Hang Seng increased +2,460 points and closed at 26,567, it still held a -7% YTD with only one month to go. The Nikkei strutted a +3,810 point increase and finished the 11th month at 26,787 and a pleasing YTD of +12%.
Fixed Income
The Federal Reserve released its minutes of November 4 – 5 on November 25. Of particular interest regarding the domestic financial markets during October is the following: "Financial conditions were little changed. Market participants suggested that U.S. fiscal policy and stronger-than-expected economic data and corporate earnings reports helped support equity prices. However, rising COVID-19 cases in Europe and the United States weighed on the outlook, and equity prices reversed some of their earlier gains. Implied volatility in the equity market moved higher, reflecting uncertainties associated with the U.S. election and the future path of fiscal policy as well as concerns about the trajectory of COVID-19 cases."

Federal Funds Rate
"Market participants' expectations for the path of the federal funds rate were little changed over the intermeeting period. In the Open Market Desk's Survey of Primary Dealers and Survey of Market Participants, respondents' views on when the Committee will most likely start raising the target range for the federal funds rate were centered around 2024."

The next meeting of the Federal Open Market Committee is scheduled for December 15 – 16.

10 Year Treasuries
On Monday, November 30, CNBC reported: "The 10-year Treasury yield was flat on Monday, on pace to finish November flat after a big jump in October. The yield on the benchmark 10-year Treasury note was little changed at 0.85%, back to the level at the start of this month. The yield on the 30-year Treasury bond was also flat at 1.58%. Yields move inversely to prices. Earlier this month, the 10-year rate jumped to a high of 0.975%, its highest point since March 20, as a slew of positive news on the coronavirus vaccine front drove investors out of safe assets. The yield has since drifted lower as investors digested the surge in new virus cases that has led to new lockdown restrictions. The benchmark rate popped more than 17 basis points in October."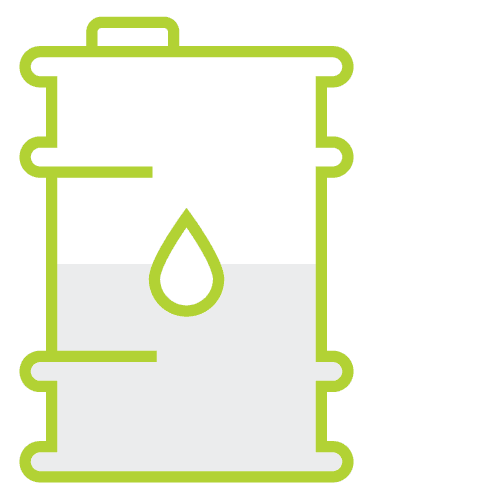 Commodities
Comex gold fell about -$80 per ounce during November, from $1,894 down to $1,814 but was about +16% higher than its 2019 year-end price per ounce of $1,528. West Texas Intermediate Crude oil rose $8.76 in November to $44.55 per barrel, about -30% below its end-of-year 2019 price of $63.05. A retail gallon of regular gasoline had a national average of $2.14, just -3/10 of a cent less than on Halloween, and about -36 cents less than New Year's Eve 2019.
U.S. Economy
Q3 GDP: The Bureau of Economic Analysis (BEA) released the following report on November 25: "Real gross domestic product (GDP) increased at an annual rate of 33.1 percent in the third quarter of 2020, as efforts continued to reopen businesses and resume activities that were postponed or restricted due to COVID-19. The increase is the same as in the "advance" estimate released in October. In the second quarter of 2020, real GDP decreased 31.4 percent."

Job Growth: The Bureau of Labor Statistics (BLS) reported on the employment situation for October, stating in its report on November 6: "Total nonfarm payroll employment rose by 638,000 in October, and the unemployment rate declined to 6.9 percent. In October, notable job gains occurred in leisure and hospitality, professional and business services, retail trade, and construction. Employment in government declined."

Unemployment Rate: "In October, the unemployment rate declined by 1.0 percentage point to 6.9 percent, and the number of unemployed persons fell by 1.5 million to 11.1 million. Both measures have declined for 6 consecutive months but are nearly twice their February levels (3.5 percent and 5.8 million, respectively). In October, the number of long-term unemployed (those jobless for 27 weeks or more) increased by 1.2 million to 3.6 million, accounting for 32.5 percent of the total unemployed. By contrast, the number of unemployed persons jobless 15 to 26 weeks decreased by 2.3 million to 2.6 million,
and the number of persons jobless 5 to 14 weeks decreased by 457,000 to 2.3 million. The number of persons who were jobless less than 5 weeks was about unchanged at 2.5 million."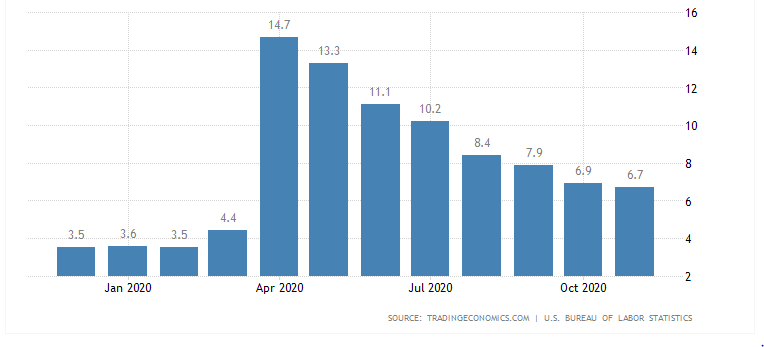 Teleworking Data: "In October, 21.2 percent of employed persons teleworked because of the coronavirus pandemic, down from 22.7 percent in September. These data refer to employed persons who teleworked or worked at home for pay at some point in the last 4 weeks specifically because of the pandemic."

Out of Business Labor Data: "In October, 15.1 million persons reported that they had been unable to work because their employer closed or lost business due to the pandemic; they did not work at all or worked fewer hours at some point in the last 4 weeks due to the pandemic. This measure is down from 19.4 million in September. About 3.6 million persons not in the labor force in October were prevented from looking for work due to the pandemic. This is down from 4.5 million in September."
Housing Sales: As reported on November 19 by the National Association of Realtors® (NAR), "Existing-home sales continued to trend upward in October, marking five consecutive months of month-over-month gains. Total existing-home sales that include single-family homes, townhomes, condominiums and co-ops, increased 4.3% from September to a seasonally-adjusted annual rate of 6.85 million in October. Overall, sales rose year-over-year, up 26.6% from a year ago (5.41 million in October 2019). "Considering that we remain in a period of stubbornly high unemployment relative to pre-pandemic levels, the housing sector has performed remarkably well this year," said Lawrence Yun, NAR's chief economist. "The surge in sales in recent months has now offset the spring market losses," he said. "With news that a COVID-19 vaccine will soon be available, and with mortgage rates projected to hover around 3% in 2021, I expect the market's growth to continue into 2021."
Existing Homes: "The median existing-home price for all housing types in October was $313,000, up 15.5% from October 2019 ($271,100), as prices increased in every region. October's national price increase marks 104 straight months of year-over-year gains."

Total Housing Inventory: "Total housing inventory at the end of October totaled 1.42 million units, down 2.7% from September and down 19.8% from one year ago (1.77 million). Unsold inventory sits at an all-time low 2.5-month supply at the current sales pace, down from 2.7 months in September and down from the 3.9-month figure recorded in October 2019."
Time on Market: "Properties typically remained on the market for 21 days in October, seasonally even with September and down from 36 days in October 2019. Seventy-two percent of homes sold in October 2020 were on the market for less than a month. First-time buyers were responsible for 32% of sales in October, up from the 31% in both September 2020 and October 2019."

Distressed Sales: "Distressed sales – foreclosures and short sales – represented less than 1% of sales in October, equal to September's percentage but down from 2% in October 2019."amily and Condo/Co-op Sales: "Single-family home sales sat at a seasonally-adjusted annual rate of 6.12 million in October, up 4.1% from 5.88 million in September, and up 26.7% from one year ago. The median existing single-family home price was $317,700 in October, up 16.0% from October 2019."
From the Federal Open Market Committee meeting minutes of November 5: "Housing-sector activity advanced in the third quarter, with real residential investment and home sales both moving above their first-quarter levels. Activity in this sector was likely being supported by low interest rates, the sector's ability to adjust business practices in response to social distancing, and pent-up demand following the widespread shutdowns earlier in the year."

Manufacturing: The Federal Reserve reported "Growth in both total industrial production and manufacturing output turned negative in September after having slowed markedly in August. Part of the softness in manufacturing production appeared to be attributable to pandemic-related delays in the motor vehicle industry's model-year changeover, though subdued foreign demand and weaker demand from domestic energy producers were also likely acting to restrain factory output. As of September, manufacturing output had recovered roughly two-thirds of the drop seen earlier in the year."
Exports: The U.S. Census Bureau stated: "Exports from the United States increased 2.6 percent to USD 176.4 billion in September 2020, the highest level since March and the fourth straight month of rises, as global demand continued to recover from the coronavirus pandemic shock. Goods exports rose by USD 3.7 billion to USD 122.8 billion, on the back of sales of foods, feeds, and beverages (USD 1.6 billion); namely soybeans (USD 1.4 billion); and capital goods (USD 1.4 billion), like telecommunications, industrial engines and computer accessories. Services exports went up by USD 0.7 billion to USD 53.6 billion, of which transport (USD 0.2 billion), travel (USD 0.1 billion) and financial services (USD 0.1 billion)."
Imports: The U.S. Census Bureau also noted "Imports to the United States edged up 0.5 percent to USD 240.2 billion in September 2020, the highest level since February and the fourth straight month of rises, as domestic demand continued its recovery from the pandemic hit. Goods purchases advanced by USD 0.6 billion to USD 203.5 billion, led by imports of automotive vehicles, parts, and engines (USD 3.2 billion), in particular passenger cars (USD 2.4 billion); and capital goods (USD 0.8 billion). On the other hand, purchases fell for consumer goods (down USD 2.1 billion), of which cell phones and other household goods (down USD 2.3 billion), and industrial supplies and materials (down USD 1.3 billion) like finished metal shapes (down USD 1.4 billion). Imports of services increased by USD 0.6 billion to USD 36.8 billion, namely travel (USD 0.3 billion) and transport (USD 0.2 billion)."
Trade Deficit: "The nominal U.S. international trade deficit narrowed in September after widening in August. Both exports and imports continued to rebound from their collapse in the first half of the year. Goods imports fully recovered to their January level, with broad-based increases in August and September. In contrast, goods exports by September recovered only two-thirds of their decline since January despite brisk growth in exports of agricultural products and industrial supplies. Services trade remained depressed, driven by the continued suspension of most international travel. Altogether, net exports made a substantial negative contribution to real GDP growth in the third quarter." (Source: Federal Reserve.)
Retail Sales: As reported by the Census Bureau, "Advance estimates of U.S. retail and food services sales for October 2020 were $553.3 billion, an increase of 0.3 percent from the previous month, and 5.7 percent above October 2019. Total sales for the August 2020 through October 2020 period were up 5.1 percent from the same period a year ago. The August 2020 to September 2020 percent change was revised from 1.9 percent to 1.6 percent. Retail trade sales were up 0.3 percent from September 2020, and 8.5 percent above last year. Non-store retailers were up 29.1 percent from October 2019, while building material and garden equipment and supplies dealers were up 19.5 percent from last year."
Consumer Prices: The Federal Reserve stated that "Consumer price inflation— as measured by the 12-month percentage change in the price index for personal consumption expenditures (PCE) through September — had returned to its year-earlier pace but remained noticeably below the rates that were posted in January and February."
Producer Price Index (PPI): The Bureau of Labor Statistics reported on November 13 that "The Producer Price Index for final demand advanced 0.3 percent in October, as prices for final demand goods rose 0.5 percent, and the index for final demand services moved up 0.2 percent. The final demand index increased 0.5 percent for the 12 months ended in October."
Consumer Price Index (CPI): Reported on November 12 by the Bureau of Labor Statistics, "In October, the Consumer Price Index for All Urban Consumers was unchanged on a seasonally adjusted basis; rising 1.2 percent over the last 12 months, not seasonally adjusted. The index for all items less food and energy was unchanged in October; up 1.6 percent over the year."

Consumer Sentiment: In their monthly report on November 24, the Consumer Confidence Conference Board stated: "The Conference Board Consumer Confidence Index® declined in November, after remaining relatively flat in October. The Index now stands at 96.1 (1985=100), down from 101.4 in October. The Present Situation Index – based on consumers' assessment of current business and labor market conditions – decreased slightly from 106.2 to 105.9. The Expectations Index – based on consumers' short-term outlook for income, business, and labor market conditions – declined from 98.2 in October to 89.5 this month."
Interesting News

Shoppers in Londonderry, Northern Ireland, are expecting to receive £95 million in vouchers intended to encourage shopping at local businesses through a prepaid card issued by the government. The prepaid card equates to about £200 per household. The Department for the Economy expects to publish the details of this plan by early 2021 because it will take about six weeks to prepare. "It's not meant to support households, it's meant to stimulate growth on High Street," said Finance Minister Conor Murphy. Local shopkeepers are complaining that this voucher plan may come too late to prevent some businesses from failing. Said one shopkeeper, "It is no good telling me there is a voucher system in 2021 when the money needs to be on the floor now."
Final Reflections
As President-elect Biden is establishing his administrative team and preparing to take office in late January, choices are being made now that will affect the domestic economy in 2021 and define the extent of America's role as a global leader and advocate for human rights at home and around the globe. During the final month of 2020, we wish all our readers and clients a healthy holiday season, and a safe and peaceful new year.
Information contained herein is based on data obtained from sources believed to be reliable, however, such information has not been verified by Carlton Financial Group, LLC d/b/a Carlton Wealth or Synergy Financial Management, LLC. The information provided has been prepared and distributed solely for information purposes and is not a solicitation or an offer to buy any security or instrument or to participate in any trading strategy or an offer of advisory services.